Culinary Uses of Sage: Herb of the Year 2001
Madeline Wajda
Adams County Master Gardener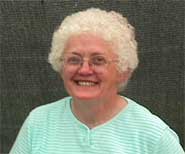 Although used since ancient times for medicinal purposes and food preservation, sage was not used as a food flavoring until the 17th century. Parkinson writes: "The Kitchen use is to boyle it with a Calves head, minced, to be put with the braines, vinegar and pepper to serve as an ordinary sause.to serve as a sawce for peeces of Veale.." Additionally, clary sage leaves could be "taken dry, and dipped into a batter made with the yolkes of egges, flower and a little milke, and then fryed with butter until they be crispe." Evelyn also suggests clary sage for "Omlets" to be eaten with sugar and lemon juice. The 1833 edition of the American Frugal Housewife tells us that "sage is very useful both as a medicine, for the headache - when made into tea - and for all kinds of stuffing, when dried and rubbed into powder."
Today we know that garden sage has many uses in the kitchen-none of which involves "braines," fortunately. Salvia officinalis is the sage most often used for cooking, with the common gray form having the best flavor. The tricolor, golden and purple sages can be used but tend to be less flavorful; Berggarten sage can be used but at half strength, for it has a much stronger flavor. Salvia elegans or pineapple sage, as well as its other forms such as honeydew melon or peach, tend to lose flavor when dried so must be used fresh when the flavor is amazingly fruit-like. Clary sage ( Salvia sclarea), because of its strong aroma, is not much used in the kitchen these days, although the fresh leaves are still sometimes dipped in batter and deep-fried.
A member of the mint family, culinary sage is highly aromatic and is best used fresh, when its flavor has been described as a mix of rosemary, pine and mint, or citrusy; when dried, it has a more camphorous flavor. In many places, it can be used fresh from the garden year round; it can also be stored fresh in a ziplock bag in the refrigerator crisper for two weeks. Whole leaves can be frozen up to two months. To dry, hang sprigs of sage or place leaves on a screen in a warm, dry place; check carefully to be sure leaves are fully dried before storage and store them whole to be crushed just before using. The best way to crush sage leaves is to rub them between your hands-hence, the "rubbed sage" one finds on supermarket shelves. The flowers of any culinary sage are edible, as well as beautiful, and have a more delicate flavor than the leaves. Stems or leaves can also be tossed on hot charcoal where they will add a wonderful aroma to grilled dishes.
Culinary sage contains generous quantities of vitamins A and C and can be used in a myriad of recipes. Because of its strong flavor, it can overwhelm so should be used sparingly; unlike the more delicate herbs, it can be added at the beginning of cooking and pairs nicely with other strongly flavored herbs, such as rosemary, thyme, savory, and oregano as well as the lemon herbs.
Long used as a digestive aid, sage goes well with fatty foods, such as pork, liver (or pate), and sausages. Although North Americans most commonly associate sage with stuffing for poultry or pork (where about 1 tablespoon of minced sage leaves is added for each cup of stuffing), it has many uses in European and Mediterranean cuisines, especially Italian dishes, such as pizza, foccaccia, saltimbocca, gnocchi, and pasta. It blends well with mild cheeses; try a little sage on a grilled cheese sandwich made with fontina cheese and dark bread. Marinate a goat cheese with olive oil, peppercorns, garlic, and some small sage leaves. Or add one-quarter cup minced sage leaves to an 8-ounce package of cream cheese and let sit for at least an hour before spreading on bagel chips.
Sage makes a great addition to biscuits or scones, as well as corn bread or cheese straws. Try covering a pork roast with sage leaves before roasting; or gently separate with your hands the skin from the breast meat of a chicken or turkey, rub a little butter on the meat, then place a small sprig or two of sage under the skin on each breast, pat down the skin, then roast-and wait for the accolades!
Heavy bean or split pea soups are tasty with a little sage added. Try sage with onion rings (add 2 tablespoons minced sage to the batter for two large onions) or in apple dishes, such as baked apples, applesauce, or apple pie (3 tablespoons of minced leaves for a 9-inch pie). A delicious bread pudding can be made by layering apples, onions, Swiss cheese, and sage. Sage is also a natural with eggplant, asparagus, winter squashes, mushrooms, string beans, stewed tomatoes, pumpkin, cherries, and blueberries. Sage honey (about one-third cup minced leaves warmed with three-quarters cup mild honey) is a wonderful addition to tea or biscuits. Sage cider vinegar makes great marinades. There are many recipes for tea with sage; try one with one part sage and two parts lemon balm.
Pineapple sage can be used for teas and punches, jellies, fruit salads, and desserts. Try lining the pan with pineapple sage leaves before making a pound cake. Chop pineapple sage leaves and add to cream cheese for a delightful spread for crackers. The leaves can also be used with chicken and fish.
The following is one of my favorite sage recipes. I encourage you to experiment with this wonderful Herb of the Year.
Sage Pecan Cheese Wafers (Makes 3 Dozen)
1 Cup (4 oz.) Shredded Sharp Cheddar Cheese
¾ Cup Flour
¼ Cup Chopped Pecans (or Walnuts)
¼ tsp. Rubbed Sage
1/8 tsp. Ground Red Pepper
1/4 tsp. Salt (one-fourth)
One-third-Cup Butter or Margarine in Small Pieces
Process first six ingredients in a food processor for 10 seconds. Add butter a piece at a time while processor is running until mixture forms a ball. Roll to one-fourth inch thickness on lightly floured surface; cut with 1 and one-half inch round cookie cutter. (The dough can also be shaped into a long roll, refrigerated, then sliced and baked.) Bake at 350 degrees on ungreased cookie sheet 12-14 minutes until edges turn golden.
Read other articles on growing herbs or vegetables