Herbs In Kitchen
Tasty, Tantalizing French Tarragon
Barbara Mrgich
Frederick County Master Gardener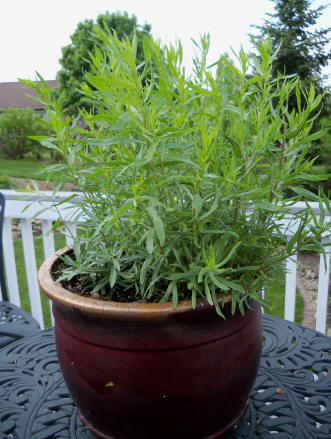 What do up-scale restaurants and gardeners have in common? They both recognize the superior taste of fresh-from-the-garden foods. Many people today seem to be so accustomed to ready-to-eat microwaveable meals, that they forget how delicious truly fresh foods can be. We gardeners never forgot. That's why we work all summer to grow those extra fresh and tasty vegetables.
Besides growing your own vegetables, an exciting way to add delicious flavor to food is with the use of fresh herbs. French Tarragon, Artemisia dracunculus, is one of my favorites. It is an easy-to-use, and easy-to-grow herb. It has a wonderful flavor that I would compare to a touch of licorice or anise. Adding a little to a fresh salad or to a main dish can turn your meal from so-so to gourmet very quickly.
You can grow French Tarragon in the garden or in a container. When you need a little in the kitchen, just sheer some off. Just like mowing the grass, it keeps coming back. Specifying the word FRENCH in the name is important because there is also a Russian Tarragon which is quite inferior in taste.
French Tarragon is an herb that prefers rich, organic soil. It likes to be in the sun, and is not water-needy. It is a perennial, and I was surprised when I read in several sources that it needs a some winter protection. It is actually rated to zone 5 (we are 6b), so it should winter over here with no problem. Like most plants, it will succumb quickly in poorly drained soil where too much moisture may cause root rot. That just might be a good reason to grow it in a pot.
A friend of mine dug up a little of hers two summers ago, and gave it to me. It spreads by stolons (underground runners), so it is easy to share (and another good reason to keep it in a pot). I put mine in an old, light-weight pot which was filled with my compost, and enjoyed it during the summer. When winter came, I was busy and forgot about it. The pot sat up in the garden with no protection, not even a little mulch right through the 2014 polar vortex. Last April, I was getting ready to go to the Herb Festival in York, and, assuming it was dead, thought I would buy some more. I hiked up to take a look at it and found the pot full and green! The picture shows what it looked like by middle of May after having been snipped quite a few times.
One other thing you should know about growing French Tarragon is that you must buy the plant, not seeds. French Tarragon seeds are sterile, so if you happen to see seeds for sale, that would be the bitter tasting Russian Tarragon.
I love to snip a little fresh tarragon into salads. It is also delicious in egg, chicken, and fish dishes. Use it sparingly at first. It has a strong and distinctive flavor. Try it added to cream or cheese sauces. Make a vinegar infusion by adding fresh, crushed tarragon to boiling white wine vinegar. Let it cool, then pour it into a mason jar, and let it sit for two weeks, strain, and rebottle and it is ready to use.
Here is a chicken recipe I have made many times. It originally came from an old Herb book called THE COMPLETE BOOK OF HERBS by Emma Callery.
Orange And Tarragon Chicken
2 tbs butter

2 tbs vegetable oil

4 boneless chicken breasts (about 6oz each)

1 chopped onion

1 cup frozen orange juice concentrate

1/2 cup chicken stock

4 sprigs of fresh tarragon

1 tbs cornstarch

1/2 cup sour cream
Heat the butter and oil in a deep fry pan that has a lid. Brown the chicken on all sides. Remove from heat and take off the skin. Cook the onion in the oils for 2-3 minutes. Stir in the orange juice, stock, and chopped tarragon. Bring to boil and return the chicken to the pan. Cover and simmer for one hour.
Blend the cornstarch with a little water then stir into pan juices. Reduce heat and stir until juices begin to thicken. Remove from heat and stir in sour cream. Yum!
Read other recipes from the garden