Herbs In Kitchen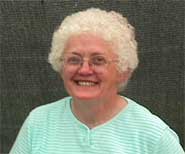 Madelin Wajda
Willow Pond Farm
Thyme, Onion & Chive Muffins

Here's a recipe for the new chives in your garden.
1 1/2 cups all-purpose flour
1/2 cup whole wheat flour
1 T. baking powder
1/2 t. salt
2 t. fresh thyme
1/2 cup onion, finely chopped
1/4 cup chives, finely chopped
1/2 cup butter, melted
1 egg
1 cup milk
Preheat oven to 375 degrees.

In a large bowl combine the flours, baking powder, salt, thyme, onion, and chives. In a separate bowl mix the butter, egg, and milk. Add the liquid ingredients to the dry, stirring only until the dry ingredients are moistened. Work quickly; do not overmix.

Spoon the batter into well-oiled or paper-lined muffin cups. Bake for about 20 minutes or until a toothpick inserted into the center of a muffin comes out clean.

Makes 12 muffins.