Herbs In Kitchen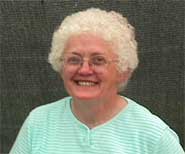 Madelin Wajda
Willow Pond Farm
3 Bosc pears
½ C port wine
2 Wine sap or McIntosh apples
1 T lemon juice
1 Granny Smith or other tart apple
1/4 C light honey
1/4 pound pitted and halved prunes
½ pint heavy whipping cream
6 thyme sprigs freshly grated nutmeg
l 1/2 C full bodied red wine
Peel and core the pears and apples. Cut into quarters (or sixths if large) and place in large non-corrodible pan. Add prunes, thyme, red wine, port, lemon juice, and honey. Cover and bring to boil, then reduce heat, remove cover and simmer for about 15 minutes until fruits are just cooked through.
Transfer fruit to large bowl to cool. Strain the poaching liquid, bring to boil, and reduce by about half. Remove from heat, let cool, then pour over the fruit.
Cover compote and refrigerate for 3-4 hours. Allow to stand at room temperature for 30 minutes before serving. Serve with whipped cream and freshly ground nutmeg.
(Serves 6 to 8)