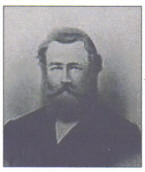 Click on the photo
War Record
Enlisted on August 29, 1862. Wounded in action, January 1, 1864. Mustered out of service on May 25, 1865.
Additional Family Information
John Henry's Mother; Mary C. (Hockensmith), Grand Daughter of George Hockensmith of the "Game Cock" company during the Revolutionary War, and also Grand Daughter of Adam Hoffman one of the first settlers of Emmitsburg. Mary C. was married to Abraham (John) Sponceler (Son of Michael?) John or Abraham died between 1844-1850. During the 1850 Census John Henry was only 5 years old. His brother George was 10. The Sponceler name is spelled several different ways Sponsellar, Sponcler, Sponsler and Sponcer.